BIG CREEK
Big Creek, the 3rd largest tributary of the Cuyahoga River, enters the Cuyahoga River 7.4 miles above the mouth of the Cuyahoga in Cleveland at Lake Erie. Big Creek's watershed contains over 130 miles of streams and culverts. Together they drain nearly 38 square miles from 8 municipalities — Cleveland, Brooklyn, Linndale, Parma, Parma Heights, Brook Park, Middleburg Heights, and North Royalton. Over 90% of the watershed's area has been developed and nearly 40% of the land surface has been made impervious, making Big Creek the most heavily urbanized watershed of any major tributary in the Cuyahoga River Watershed. This degree of urbanization provides tremendous challenge…and opportunity!
CONSERVATION
Learn about FOBC's conservation initiative
HERE.
Sincere thanks to contributors to FOBC's
Conservation Fund!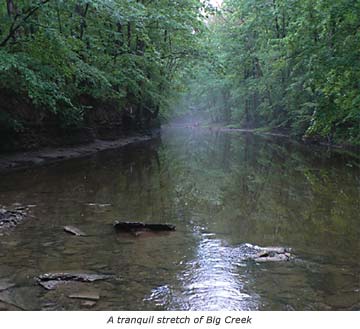 MISSION
To conserve, enhance, and bring recognition to the natural and historic resources of the Big Creek Watershed and develop a recreational trail network that joins these resources to each other and the community.
VISION
The connection of existing greenways such as the CanalWay Towpath Trail west and south to the Big Creek Reservation at Brookpark Road.
Improved conditions of Big Creek and the natural environment throughout the watershed.
Improved, safe and convenient access to the natural environment throughout the Big Creek watershed with increased educational and recreational opportunities
Successful promotion of the benefits of a healthy watershed, as well as important historical events, structures and sites within the watershed.
MAJOR PROJECTS UNDERWAY
- Friends of Big Creek and the Cuyahoga River Community Planning Organization (CRCPO), with local funding matches from the watershed communities (Brook Park, Brooklyn, Cleveland, Parma and Parma Heights), were awarded an Ohio Coastal Management Assistance Grant for a Big Creek Balanced Growth Watershed Management Plan. Community based watershed planning helps reduce flood damage, decrease the loss of greenspace, reduce soil erosion and improve water quality. The Big Creek Watershed Balanced Growth Plan, managed by the CRCPO with assistance from the Cuyahoga County Planning Commission, is complete. Five watershed communities passed resolutions of support and we received state endorsement of the plan by the Ohio Lake Erie Commission on June 15, 2011.
- Friends of Big Creek, Cleveland Metroparks, and the cities of Cleveland and Parma joined the City of Brooklyn as co-sponsors for funding from a NOACA Transportation for Livable Communities Initiative grant for the Big Creek Greenway Trail Alignment & Neighborhood Connector Plan. The study, lead by the Floyd Browne Group, seeks to connect the Metroparks Big Creek and Brookside Reservations through the City of Brooklyn while identifying opportunities for interpretive exhibits and ecological restoration. This plan was completed in March 2009.
- For the fourth year (2009-13) FOBC was awarded funding from the Northeast Ohio Regional Sewer District to develop and implement a work plan that addresses flooding, erosion and water quality through stormwater management practices and stream and wetland restoration. This program has enabled us to develop numerous projects.
JOIN US if you have interest in—or concerns about—preserving greenspace, improving conditions of Big Creek and the natural environment, and improved quality of life for our residents. Attend a meeting or join us on a hike.
E-mail us at info@friendsofbigcreek.org to be notified of future events.