These have been unusual times indeed but Big Creek Connects is persevering in our aim to deepen the impact. And, in times like these, we can't ignore how interconnected we all are—and how connected to our environment. If you share this worldview please consider making a contribution to our cause. Only through the generosity of our community members can we continue to protect and improve our environment. YOU make the difference. Please see our 2020 year-end newsletter to learn about the difference you made last year.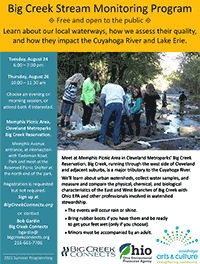 Summer 2021 Stream Monitoring Program
Sign up for Tuesday, Aug. 24, 6:00 – 7:30 pm
Sign up for Thursday, Aug. 26, 10:00 – 11:30 am
Mission
To conserve, enhance, and bring recognition to the natural and historic resources of the Big Creek Watershed and develop a recreational trail network that connects these resources to each other and the community.
Vision
The connection of existing greenways such as the CanalWay Towpath Trail west and south to the Big Creek Reservation at Brookpark Road.
Improved conditions of Big Creek and the natural environment throughout the watershed.
Improved, safe and convenient access to the natural environment throughout the Big Creek watershed with increased educational and recreational opportunities.
Successful promotion of the benefits of a healthy watershed, as well as important historical events, structures and sites within the watershed.
Watershed Management
The Nine-Element Nonpoint Source Implementation Strategies (9-Element NPS-IS) plan summarizes causes and sources of impairment, established critical areas, identifies quantifiable objectives to address causes and sources of impairment, and describes projects designed to meet those objectives. The Big Creek plan received Ohio EPA and U.S. EPA approval in June 2017.
Friends of Big Creek and the Cuyahoga River Community Planning Organization (CRCPO), with local funding matches from the watershed communities (Brook Park, Brooklyn, Cleveland, Parma and Parma Heights), were awarded an Ohio Coastal Management Assistance Grant for a Big Creek Balanced Growth Watershed Management Plan. Community based watershed planning helps reduce flood damage, decrease the loss of greenspace, reduce soil erosion and improve water quality. Five watershed communities passed resolutions of support and we received state endorsement of the plan by the Ohio Lake Erie Commission on June 15, 2011. FOBC is the lead organization to manage the implementation of the Plan and communication among the Partnership governments and assisting agencies.
Greenway/Trail Development
Big Creek Connects (as Friends of Big Creek), Cleveland Metroparks, and the cities of Cleveland and Parma joined the City of Brooklyn as co-sponsors for funding from a NOACA Transportation for Livable Communities Initiative (TLCI) grant for the Big Creek (Brooklyn) Greenway Trail Alignment & Neighborhood Connector Plan. The study looks to connect the Metroparks Big Creek and Brookside Reservations through the City of Brooklyn while identifying opportunities for ecological restoration. This plan was completed in March 2009 and complements the Lower Big Creek Greenway Redevelopment & Restoration Plan completed the prior year. The Big Creek/I-71 Relocation & Restoration Initiative's first phase of study is currently underway and seeks to close gaps where these plans overlap and open up additional land use opportunities.
Big Creek/I-71 Relocation & Restoration Initiative
This program area entails a comprehensive planning Initiative that spans a geographic area adjoining and overlapping the two greenway plans. The Big Creek/I-71 Relocation & Restoration Initiative examines relocating sections of Interstate 71 and redirecting the flow of Big Creek to improve stream hydrology, expand greenspace and recreational trails, improve highway access, and create community and economic development opportunities. The first phase of study undertaken by Friends of Big Creek and funded by the cities of Brooklyn and Cleveland and the Northeast Ohio Regional Sewer District was completed March 2015. See Big Creek/I-71 Initiative.
Conservation
Learn about FOBC's conservation initiative
HERE.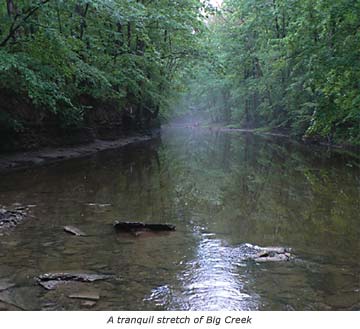 Join us
...if you have interest in—or concerns about—preserving greenspace, improving conditions of Big Creek and the natural environment, and improved quality of life for our residents. Here's how!
Sponsors
Programs and operations generously supported by members and:

Note: Friends of Big Creek name change
In June 2014, after nine years since its founding, the Board of Trustees of Friends of Big Creek agreed on a new name that better reflects the organization's programs and mission statement – Big Creek Connects!